News at Whitstable Yacht Club
Club News
Ladies who Launch
Posted: Wednesday, 29 June, 2016
To all women interested in sailing and windsurfing, Please come along to the inaugural meeting for Whitstable Yacht Club's Ladies who Launch Sailing and Windsurfing group on Saturday 16 July 2016 at 15:00 (after the morning races) . The aim of the group is to promote women's sailing and windsurfing through training, racing, and social events. The meeting is for welcoming members and discussing ideas. A new Facebook group has also been created to promote events. The group is called "Ladies Who Launch Whitstable Yacht Club". Please contact Patty Baker if you have any questions or suggestions: pattyanne_baker@hotmail.com
Ladies Changing Room
Posted: Wednesday, 29 June, 2016
Could the ladies please check they have their own wetsuit. If you have the wrong one then please contact Julie Puckett, julieppuckett@yahoo.co.uk, as hers went missing on Sunday 26th June.
Whitstable Week 2016 - 7 weeks to go!
Posted: Sunday, 12 June, 2016

Whitstable Week 2016 is seven weeks away! This year will see 10 races over 5 days, and 5 nights of great social events. Our Friday Night Band, Ben Russell and the Charmers play their 'warm up' gig at the Glastonbury festival at the end of June!
Entry fee is only £60 for the week, with a 50% discount for young persons (18-25), and cadets (under 18s) can race for only £5 for the whole week! The Notice Of Race and Draft Sailing Instructions can now be downloaded from the website.
No Parking on the Beach
Posted: Thursday, 09 June, 2016
There is strictly no parking on the beach, unless unloading or on club business (which you must inform & get permission from the office). As we are now in to the busy time of year the barrier must be closed at all times. Parking on the beach encourages the general public to do so which can restrict emergency services access. Don't do it otherwise you may be locked in!
Posted: Tuesday, 07 June, 2016

Whitstable Yacht Club hosted the Wanderer Nationals on the weekend of the 4th and 5th of June. 3 of 4 races were sailed, and 2 visiting boats competed with 9 club boats. The event was won by Philip Meadowcroft and Adam Wickenden from Salcombe Sailing Club, with Ian Simpson and Dave Bardwell from Tudor Sailing Club in second, and our very own Gavin Barr and Mark Skipper in third. Click more for a full write up of the event by Shelagh O'Riordan, and check out the photos by Laura Jean Carney on the Facebook page.

More ›
Whitstable Watersports Centre - Now open for business!
Posted: Sunday, 05 June, 2016

The Whitstable Watersports Centre (previously known as Wild Times) will be open for business from Monday 6th June. Under the new management of Nick Pardoe, the centre offers tuition and equipment rental in sailing, stand up paddleboarding (SUP) and windsurfing using a refreshed range of equipment, and experienced, fully RYA qualified instructors. For more information see the centre's new website at www.whitstablewatersportscentre.com or like their Facebook page. And don't forget, Whitstable Yacht Club members get a discount of up to 25%!

First Aid Course
Posted: Thursday, 02 June, 2016
We are looking to organise a RYA recognised First Aid course for members. This would take place on a week day in September or October subject to there being sufficient interest. It would be a one day RYA Stormforce Coaching course, 9 am to 4 pm, led by Penny Davies, who is a retired nurse and sailor, and is particularly relevant for First Aid in sailing and water sports. On the basis of a group of twelve, the charge would be £45 per person, inclusive of the FA Manual (which must be purchased for the course to be valid) and RYA approved certificate valid for three years. Penny Davies has been recommended to us having recently provided a course at Herne Bay Sailing Club.
If you are interested in attending, please contact office@wyc.org.uk and please indicate any dates in September or October (week days) that you can NOT do. We will endeavour to accommodate preferences.
Posted: Monday, 30 May, 2016
Four races were sailed on Saturday and Sunday for this years' Club Championships, and as ever there was competitive racing throughout, with 37 boats taking part. This years' Champions were Tudor Owen and Tom Bruton in the 505 with a first place in all four races, beating Phil Emery and Dave Hawkins into a consistent second place. Max Sellar narrowly missed the top six but took the prize for the highest place Cadet, with a seventh overall in his Laser 4.7, and cadet Tom Oliver took the prize for the Slow Handicap in his Topper. Ruth Wilkinson also deserves a mention for winning the Ladies Cup as the highest placed female helm, and the Laser Radial prize, despite racing for the first time in a Laser!
The full results are posted here, and click more for the full list of prize winners. More ›
Peter Raymer
Posted: Friday, 27 May, 2016

We've recently heard from the daughter of Peter Raymer, and it is with great sadness that we pass on the news that he passed away in his sleep yesterday afternoon. He was a great character and friend to many of us and will be greatly missed.
Steve Gray has kindly written a few words below:
We all knew Peter as the father of the Laser fleet and club legend, and will miss his cheery advice and general chat over a half of cider.
Pete was a lifelong sailor with experience of a wide range of dinghies which he raced to a high level. Whilst he never won the Laser Masters Worlds he came close several times in locations around the world, and would proudly tell you of the race he led by so far the race committee didn't finish him thinking he was a back marker! He made friends everywhere he went and would keep in touch with them from around the world.
His other passions were his family and cars, spending his career in the aftersales and technical departments of several brands - but his soft spot was always for Alfa Romeo. Whilst he spent a fair proportion of his career abroad in Africa (where he built his own Hornet) it was Peter who saw Alfa through the difficult days of the 80's when Italian cars were just a little less than reliable. He was always resourceful and dependable – two of the most important assets for his career.
Peter retired relatively early and was also a widower for much of that time. That gave him the opportunity to sail and travel the world following the Laser Masters circuit with the success previously mentioned. He raced actively at WYC well into his 80's and with success until about 5 years ago - but remained a keen member of the Laser fleet attending socials until just a few weeks ago. He was always the go-to guy when a member of the fleet needed help, ever patient he would explain a carefully thought through solution to your problem.
We will all miss him helping out the Laser fleet and many others around the club – at 89 he contributed so much to many in the fleet and was a friend and example to all. Above all Peter was a gentleman who was respected and loved by us all.
A weekend of two extremes: The B14 and 505 Opens at WYC!
Posted: Tuesday, 24 May, 2016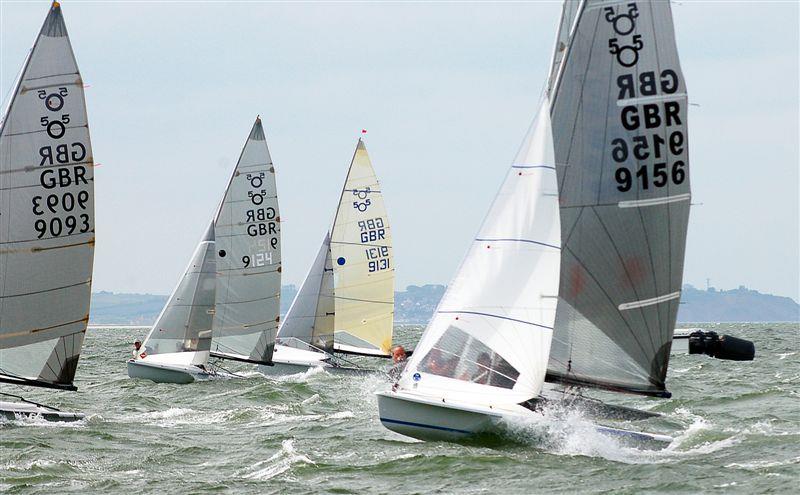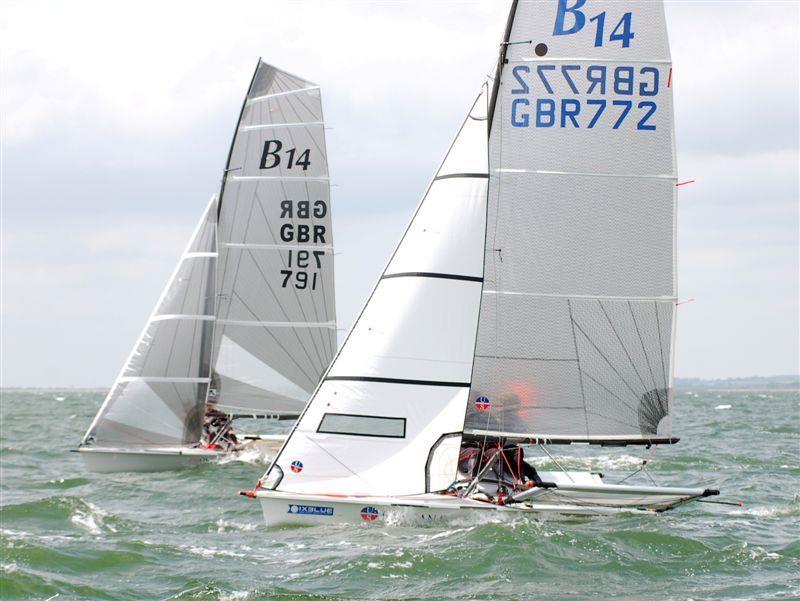 30 teams from the high performance B14 and 505 classes visited Whitstable Yacht Club on 21st and 22nd May for a combined Open event. The weather for the weekend provided the two extremes that Whitstable has to offer, with high wind and big waves on the Saturday, and very light winds on the Sunday. Whitstable Yacht Club also provided it's signature warm welcome to the visiting sailors with a great onshore experience over the weekend!
Well done to Nathan Batchelor and Sam Pascoe from Tynemouth SC who won the 505s, and to Mark Watts and Chris Bishop from Weston SC who won the B14s. Also, well done to top Whitstable Yacht Club teams of Tudor Owen and Tom Bruton in their 505 and Mark Barnes and Charlotte Jones in their B14, both of whom came 3rd in their classes.
Full reports for the weekend are on Yachts&Yachting, here for the 505s and here for the B14s, and the results are on the WYC website.
Thanks to Mark Barnes for organising the event, and all of the WYC volunteers who supported the event, both on and off the water. Photos by Nick Champion championmarinephotography.co.uk and Stuart France.

Team WYC win the KSSA Topper Team Racing event at Redoubt SC!
Posted: Sunday, 22 May, 2016

WYC cadets Caitie, Max, Tom and Iggy, some of whom had never sailed a Topper before, won the Kent Schools Sailing Association's Topper Team Racing event at Redoubt Sailing Club on Saturday with an unprecedented 1st and 2nd in every race! The win qualifies them for the Eric Twiname Youth and Junior Team Racing event at Oxford Sailing Club in October!
Caitie provided the following report on the event:
We arrived at Redoubt Sailing Club to find a very patchy wind varying between about 10 and 20+ knots. Our first race was against the 3rd New Beacon team and we decided that, out of our team of four, Max, Tom and Iggy would race this race. Our tactic for the team racing was initially to have one person attempting to win the race, and the other two defending. With the gusty wind, our three boats managed to stay upright to get ahead of the other team and we came away with a win of a 1st and a 2nd. Our second race was against New Beacon two and this time Max, Iggy and I were racing. This race was also very gusty making the conditions tricky, but we again managed to come away with a 1st and a 2nd. The third race of the day for us was against the Downs two team. At the start Tom, Max and I managed to hold the other team off from the start line and ended up in a good position to cover them. Tom was unfortunately over the line but Max and I managed to again end up in 1st and 2nd with Tom defending our win. We also won our race against New Beacon One which put us in a great position going into our last race against Downs One. At the start of the last race we decided to each mark a member of the other team so we would have the best chance of winning this race. We managed to time our start very well and having covered the port and starboard side of the course, came to the top mark with a good lead of first and second. We successfully defended this lead which resulted in a win of the event, followed by Downs Two in second and Downs One in third place.
We would like to thank Redoubt Sailing club for hosting the event, all the helpers who helped make the event happen, KSSA, all the parents and staff, and the competitors for making it a great event.
Well done team WYC!
Photos by Susan Sellar

West Quay - Temporary Clearance
Posted: Tuesday, 17 May, 2016
This year WYC has agreed to support two local events for Vattenfall and the Whitstable Oyster Festival utilising the West Quay storage area.

The Vattenfall event is in June and the Oyster Festival is in July. As a result West Quay will need to be cleared of all boats and equipment prior to each event and whilst it is recognised this causes some inconvenience the two events will provide significant income to the club. This year we have access to the central compound on West Quay so boats and equipment will just need to be moved from the end of the quay to the centre area.

The first of the events is for Vattenfall on 6th/7th June, boats and equipment will need to be moved from Saturday 28th May to Monday 30th May, and must be returned to West Quay after the event and by the weekend of June 11th/12th.
The Oyster Festival is scheduled from July 23rd and the dates for boat movement for this event will be published never to the event.

WYC Pushed the Boat Out
Posted: Sunday, 15 May, 2016
Whitstable Yacht Club held an RYA Push The Boat Out event on Sunday, to give people new to the sport a sailing taster and encourage them to take up the sport. We had over 50 people through the door and out onto the water, with people setting sail in a Wanderer, Topaz, Dart 18 or Xenon for the first time! Everyone had a great time, and at least seven new members joined on the spot, with lots more taking away the membership forms with the intention of joining at a later date.
Thanks to all of the members volunteered today, talking to the visitors, helping them get the right kit, and getting them afloat, but special thanks must go to Patty Baker who organised the event and kept it running smoothly. Thanks also to the new Whitstable Watersports Centre and the University of Kent Sailing and Windsurfing Club for lending out wetsuits, boots and buoyancy aids to the new sailors.
WYC Development - Funding Update
Posted: Tuesday, 10 May, 2016
At the October Special General Meeting, the club decided to apply for Sport England grants to redevelop parts of the club. Two grants were applied for, with several hundred hours of effort from WYC Committee members and subject matter experts put into the development of the applications.
We were told in January that we had been unsuccessful for the larger Sport England 'Improvement Fund', and disappointingly this week we have received notice that we have also been unsuccessful with the smaller Sport England 'Inspired Facilities Fund'. Although a lot of work went into putting together a strong bid for the work, Sport England received over 600 applications seeking £42m of investment against an available lottery budget of only £10m for 'Inspired Facilities', and ultimately our project goals did not align as closely to Sport England's as some of our competition for this funding.
There has been a lot of work done on these funding bids, which has been very helpful in clarifying the club's objectives and needs, especially around its facilities. Whilst we do not want to loose the momentum that we've built up, the General Committee will now need to spend some time re-assessing funding options and our priorities in any changes needed.

Report on the cruise to Shipwright's Arms, Faversham Creek, on Sat 6th May
Posted: Monday, 09 May, 2016
Seals on The Swale
Light winds and bright sunshine set the tone for Saturday's cruise to Hollow Shore with four Wanderers, a Stratos and Topaz taking part with 14 club members aboard the boats.
In fact, winds were so light that not long after setting sail, we could hear the postponement signal for our colleagues back at WYC.
We made toward Shell Ness on smooth waters, on a rising tide in ideal cruising conditions, and were thrilled to spot seals basking in the mouth of The Swale. Blessed with natural curiosity and sociability, several of them swam close by our little fleet as we passed by to moor to the bank near the Shipwright's Arms.
Birdsong, distant church bells and long awaited warm sunshine provided the perfect backdrop for a picnic lunch and a pint.
The flooding tide saw our boats rise quickly in the water - or in one case, some considerable bailing effort to stay above the water - and we set off for home in contrasting conditions with increased wind and quite a swell. Those of us that had peeled off layers at the Shipwrights were glad of them on the way back as we all got a good sea spray. The Topaz capsized and although righted quickly and crew safely aboard, it was a useful reminder of the importance of keeping in sight of each other and ready to help if needed.
A bumpy but exhilarating sail home after a delightful day that certainly seemed to meet with the seals' approval.
Many thanks to Richard Maltby for organising, briefing and preparation, Jo Phillips for this report, and Susan Seller for the photo.
If you'd like to take part in the next cruise, this time around the Isle of Sheppey, on the weekend of 16th July, details will be posted here nearer the time, or contact Richard Maltby at richard.maltby9@gmail.com!
Page 1 of 41 pages 1 2 3 > Last ›
Have some news?
Contact the office if you have some news. Email office@wyc.org.uk.
CLUB NEWS ARCHIVE
HIGHLIGHTS
USEFUL
Comments and suggestions for this site should sent to the webmaster.
Keep up to date with WYC news
Subscribe by: