News at Whitstable Yacht Club
Club News
Race Officer needed on Sunday and Monday
Posted: Thursday, 26 May, 2016
Unfortunately our scheduled Race Officer is now unable to do the RO duty on Sunday and Monday for the Club Championships. The Sunday has two races back to back starting at 2pm, and Monday is two back to back races starting at 10am, both days are Committee Boat starts. If you're willing and able to volunteer to fill this gap, please contact Robert on rear.comm.sailing@wyc.org.uk or 07733260879
A weekend of two extremes: The B14 and 505 Opens at WYC!
Posted: Tuesday, 24 May, 2016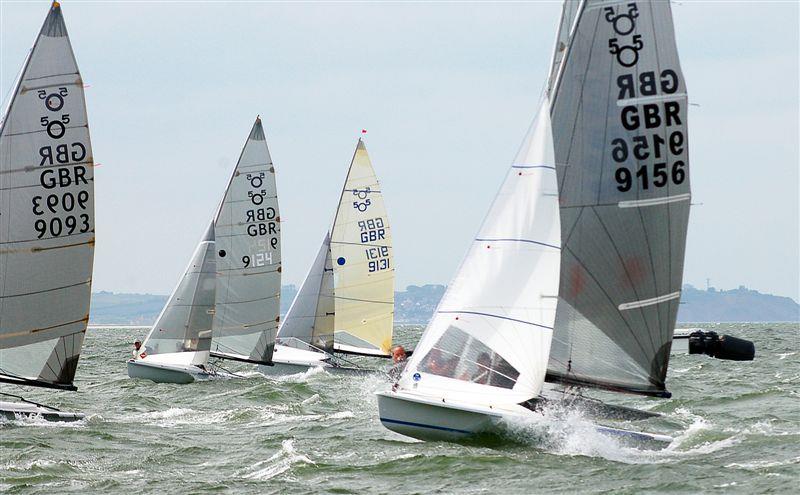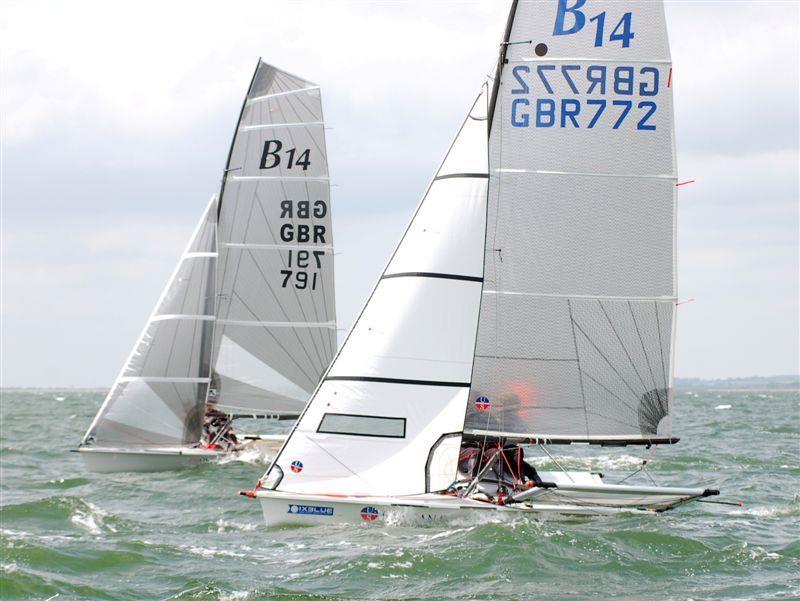 30 teams from the high performance B14 and 505 classes visited Whitstable Yacht Club on 21st and 22nd May for a combined Open event. The weather for the weekend provided the two extremes that Whitstable has to offer, with high wind and big waves on the Saturday, and very light winds on the Sunday. Whitstable Yacht Club also provided it's signature warm welcome to the visiting sailors with a great onshore experience over the weekend!
Well done to Nathan Batchelor and Sam Pascoe from Tynemouth SC who won the 505s, and to Mark Watts and Chris Bishop from Weston SC who won the B14s. Also, well done to top Whitstable Yacht Club teams of Tudor Owen and Tom Bruton in their 505 and Mark Barnes and Charlotte Jones in their B14, both of whom came 3rd in their classes.
Full reports for the weekend are on Yachts&Yachting, here for the 505s and here for the B14s, and the results are on the WYC website.
Thanks to Mark Barnes for organising the event, and all of the WYC volunteers who supported the event, both on and off the water. Photos by Nick Champion championmarinephotography.co.uk and Stuart France.

Posted: Tuesday, 24 May, 2016
SI: Wendy Fitzpatrick. Instructors: Nia, Eliza, Alex and Conor. Helpers: Fef and Peter Griffin and all parents please.

17.15: Instructors meeting with SI.
18.00: Briefing for all in the Sea Room - changed and ready to sail.
More ›
Team WYC win the KSSA Topper Team Racing event at Redoubt SC!
Posted: Sunday, 22 May, 2016

WYC cadets Caitie, Max, Tom and Iggy, some of whom had never sailed a Topper before, won the Kent Schools Sailing Association's Topper Team Racing event at Redoubt Sailing Club on Saturday with an unprecedented 1st and 2nd in every race! The win qualifies them for the Eric Twiname Youth and Junior Team Racing event at Oxford Sailing Club in October!
Caitie provided the following report on the event:
We arrived at Redoubt Sailing Club to find a very patchy wind varying between about 10 and 20+ knots. Our first race was against the 3rd New Beacon team and we decided that, out of our team of four, Max, Tom and Iggy would race this race. Our tactic for the team racing was initially to have one person attempting to win the race, and the other two defending. With the gusty wind, our three boats managed to stay upright to get ahead of the other team and we came away with a win of a 1st and a 2nd. Our second race was against New Beacon two and this time Max, Iggy and I were racing. This race was also very gusty making the conditions tricky, but we again managed to come away with a 1st and a 2nd. The third race of the day for us was against the Downs two team. At the start Tom, Max and I managed to hold the other team off from the start line and ended up in a good position to cover them. Tom was unfortunately over the line but Max and I managed to again end up in 1st and 2nd with Tom defending our win. We also won our race against New Beacon One which put us in a great position going into our last race against Downs One. At the start of the last race we decided to each mark a member of the other team so we would have the best chance of winning this race. We managed to time our start very well and having covered the port and starboard side of the course, came to the top mark with a good lead of first and second. We successfully defended this lead which resulted in a win of the event, followed by Downs Two in second and Downs One in third place.
We would like to thank Redoubt Sailing club for hosting the event, all the helpers who helped make the event happen, KSSA, all the parents and staff, and the competitors for making it a great event.
Well done team WYC!
Photos by Susan Sellar

West Quay - Temporary Clearance
Posted: Tuesday, 17 May, 2016
This year WYC has agreed to support two local events for Vattenfall and the Whitstable Oyster Festival utilising the West Quay storage area.

The Vattenfall event is in June and the Oyster Festival is in July. As a result West Quay will need to be cleared of all boats and equipment prior to each event and whilst it is recognised this causes some inconvenience the two events will provide significant income to the club. This year we have access to the central compound on West Quay so boats and equipment will just need to be moved from the end of the quay to the centre area.

The first of the events is for Vattenfall on 6th/7th June, boats and equipment will need to be moved from Saturday 28th May to Monday 30th May, and must be returned to West Quay after the event and by the weekend of June 11th/12th.
The Oyster Festival is scheduled from July 23rd and the dates for boat movement for this event will be published never to the event.

WYC Pushed the Boat Out
Posted: Sunday, 15 May, 2016
Whitstable Yacht Club held an RYA Push The Boat Out event on Sunday, to give people new to the sport a sailing taster and encourage them to take up the sport. We had over 50 people through the door and out onto the water, with people setting sail in a Wanderer, Topaz, Dart 18 or Xenon for the first time! Everyone had a great time, and at least seven new members joined on the spot, with lots more taking away the membership forms with the intention of joining at a later date.
Thanks to all of the members volunteered today, talking to the visitors, helping them get the right kit, and getting them afloat, but special thanks must go to Patty Baker who organised the event and kept it running smoothly. Thanks also to the new Whitstable Watersports Centre and the University of Kent Sailing and Windsurfing Club for lending out wetsuits, boots and buoyancy aids to the new sailors.
WYC Development - Funding Update
Posted: Tuesday, 10 May, 2016
At the October Special General Meeting, the club decided to apply for Sport England grants to redevelop parts of the club. Two grants were applied for, with several hundred hours of effort from WYC Committee members and subject matter experts put into the development of the applications.
We were told in January that we had been unsuccessful for the larger Sport England 'Improvement Fund', and disappointingly this week we have received notice that we have also been unsuccessful with the smaller Sport England 'Inspired Facilities Fund'. Although a lot of work went into putting together a strong bid for the work, Sport England received over 600 applications seeking £42m of investment against an available lottery budget of only £10m for 'Inspired Facilities', and ultimately our project goals did not align as closely to Sport England's as some of our competition for this funding.
There has been a lot of work done on these funding bids, which has been very helpful in clarifying the club's objectives and needs, especially around its facilities. Whilst we do not want to loose the momentum that we've built up, the General Committee will now need to spend some time re-assessing funding options and our priorities in any changes needed.

Report on the cruise to Shipwright's Arms, Faversham Creek, on Sat 6th May
Posted: Monday, 09 May, 2016
Seals on The Swale
Light winds and bright sunshine set the tone for Saturday's cruise to Hollow Shore with four Wanderers, a Stratos and Topaz taking part with 14 club members aboard the boats.
In fact, winds were so light that not long after setting sail, we could hear the postponement signal for our colleagues back at WYC.
We made toward Shell Ness on smooth waters, on a rising tide in ideal cruising conditions, and were thrilled to spot seals basking in the mouth of The Swale. Blessed with natural curiosity and sociability, several of them swam close by our little fleet as we passed by to moor to the bank near the Shipwright's Arms.
Birdsong, distant church bells and long awaited warm sunshine provided the perfect backdrop for a picnic lunch and a pint.
The flooding tide saw our boats rise quickly in the water - or in one case, some considerable bailing effort to stay above the water - and we set off for home in contrasting conditions with increased wind and quite a swell. Those of us that had peeled off layers at the Shipwrights were glad of them on the way back as we all got a good sea spray. The Topaz capsized and although righted quickly and crew safely aboard, it was a useful reminder of the importance of keeping in sight of each other and ready to help if needed.
A bumpy but exhilarating sail home after a delightful day that certainly seemed to meet with the seals' approval.
Many thanks to Richard Maltby for organising, briefing and preparation, Jo Phillips for this report, and Susan Seller for the photo.
If you'd like to take part in the next cruise, this time around the Isle of Sheppey, on the weekend of 16th July, details will be posted here nearer the time, or contact Richard Maltby at richard.maltby9@gmail.com!
Advice for Race Officer and Assistant Race Officer duties
Posted: Sunday, 08 May, 2016
If you have a Race Officer or Assistant Race Officer duty coming on the Committee Boat (all races in the schedule that show (CB) after the race name), please ensure that you bring appropriate clothing. You may need to wade into the water to get into the Safety Boat to take you out to the boat, so should wear wetsuit boots (or shoes you don't mind getting wet!) and appropriate trousers/shorts. You should also wear your buoyancy aid or life jacket, and dress for the weather - it's usually colder on the Committee Boat than on shore, and there's not much shade from the sun or rain. You should also allow for extra time to get out to the Committee Boat.
But, don't let this put you off. Doing a duty from the Committee Boat should be a fun experience, and gives you a unique view of Whitstable and the race! For more information and guidance about doing your Race Officer or Assistant Race Officer duty, see the 'Notes for ROD' at wyc.org.uk/members/Club_Rules.
Posted: Tuesday, 03 May, 2016
Please note as from this week Cadet sessions are now scheduled for Fridays at 6.00 pm. Unfortunately this Friday the session time coincides with low water which precludes organised sailing with RIB support. With the forecast of pleasant weather the committee has decided instead to hold a Bar-B-Q with beach activities for cadets, parents and all the family.
Congratulations to the 17 Cadets and Instructors who did so well to sail in the challenging conditions last Saturday afternoon after the club race. More ›
The 2016 Tasar National Championships
Posted: Tuesday, 12 April, 2016
Friday 8th July – Sunday 10th July 2016
Whitstable Yacht Club is proud to be hosting 2016 Tasar National Championships. Whitstable Yacht Club has one of the largest fleets of Tasars in the UK and the club has a long tradition of organising events at Club, National and International Levels. Eight championship races will be held in Whitstable Bay over three days, and there will be an accompanying programme of social events.
Whitstable offers some of the best sailing conditions in the south-east, and the town is also a great holiday destination for shopping, restaurants, and pubs. There's plenty of space to park your boat, a large chandlery right next door, and you can find details of accommodation here.
You can enter online here, and there are discounts for early-bird entries. The championship documents will be loaded to the WYC website shortly; please check back for the Notice of Race and Programme of Events. You can also stay up to date with the preparations on the Tasar Nationals Facebook page
Reminder - No parking on the Beach or West Quay
Posted: Thursday, 31 March, 2016
Reminder - car parking is not permitted on the Beach or West Quay without the express permission from the Club Manager. If you need to drive onto the Beach or West Quay areas for drop off or pick up, please drive carefully, do not block any boats or other vehicles, and stay with or near your vehicle at all times.
Reminder: Topaz for sale
Posted: Tuesday, 22 March, 2016
Do you want a new boat for the new sailing season? The Topaz Uno demonstration boats that Wild Times have been using are now 2 years old, and Topper are selling them off at a very good discount. There are 5 boats to sell, all of which have been well maintained by Topper and Wild Times, and so are in excellent condition. The selling price represents a discount of almost half the price of a similar spec'ed new boat, so these are a very good deal! The details and pricing can be downloaded here, and if you're interested please contact Russ at Topper at russ.dent@toppersailboats.com or 07775 923655.
Bar Opening Hours
Posted: Monday, 14 March, 2016
On Saturdays the bar will be open until 11pm from 19th March until winter this year, Tuesday & Thursday evening will remain 9pm close and will be extended to 11pm in early summer.
Great start to the 2016 season!
Posted: Sunday, 13 March, 2016
The annual Working Party was held on Saturday and the first race on Sunday, and we had a cracking weekend for it! Lots of members came along on Saturday to give the club a spring clean and get it ready for the new year. Thanks to everyone who took part and made light work of all the jobs!
On Sunday we had a great turn out for April Showers 1. 18 boats were on the start line, from Wanderers to F18 catamarans for the first race. Despite the higher than forecast wind, everyone had a great time on the water. Race results will be published shortly.
If we can get more weekends like this, we'll have a great 2016 season! Next weekend we have races on Saturday and Sunday, both with 11am starts.
Page 1 of 40 pages 1 2 3 > Last ›
Have some news?
Contact the office if you have some news. Email office@wyc.org.uk.
CLUB NEWS ARCHIVE
HIGHLIGHTS
USEFUL
Comments and suggestions for this site should sent to the webmaster.
Keep up to date with WYC news
Subscribe by: